M/s. IAP Logistics is fully geared to provide a multitude of logistic services to its clients through its custom bonded warehouse at the Islamic Port, Jeddah. Custom bonded warehouse is a defined storage premises where imported cargo can be stored without payment of customs duty and can be cleared in instalments as per the convenience of the importer with or without value addition. Within our domain of operations, clients are assured of transparency and highly efficient cargo handling by a team of dedicated workforce without any loss in cargo value through mishandling and/or pilferage.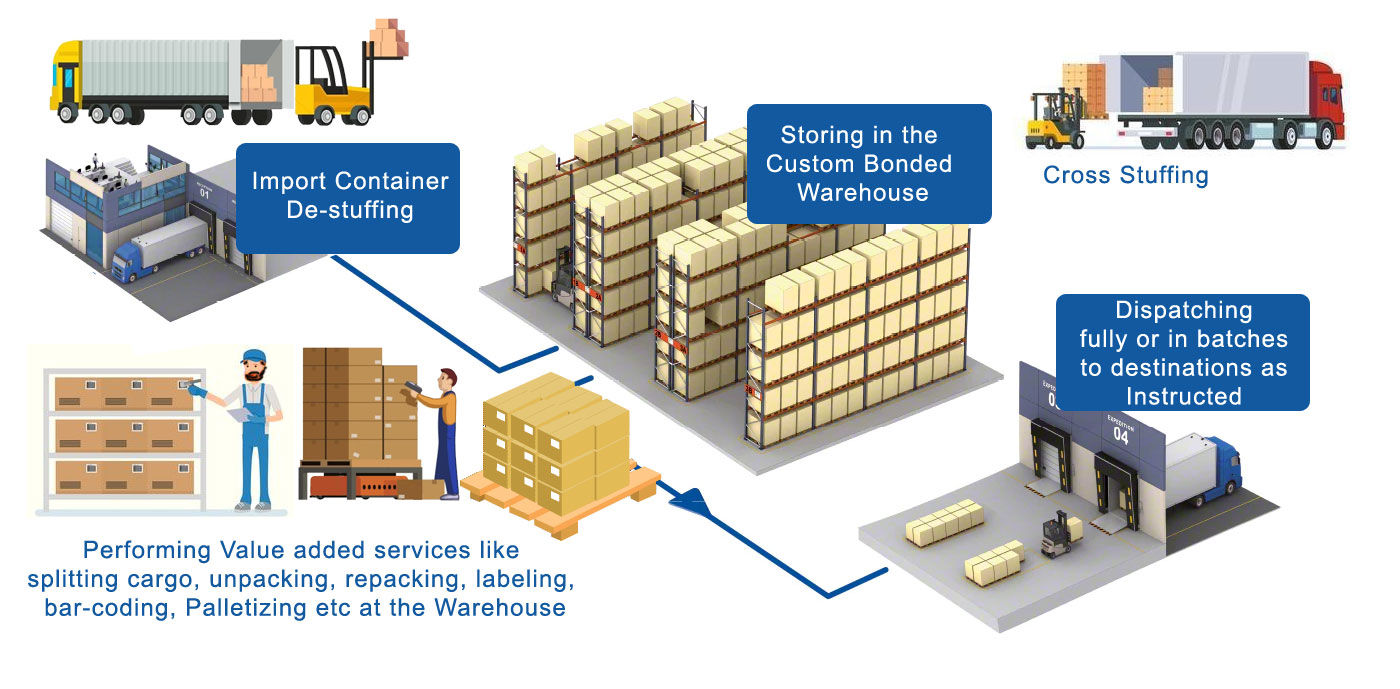 ---
Custom Bonded Warehouse & Allied Logistics
Instant Economic Benefits of Bonded Warehousing:
CUSTOMS DUTY
%
You only Pay duty for the Quantity you ship out of Bonded Area
DEMURRAGES
%
There are no Demurrage Charges
..
..
DETENTION
%
There are no Detention Charges
..
..
VAT
%
VAT is not applicable to clients till they sell and bill the goods.
Apart from the obvious advantages of deferred customs duty which reduces the burden on the working capital and savings on demurrage, cargo detention and bulk carting costs to clients using bonded warehouse, We at IAP Logistics provide a score of other services to our clients that will not only make their supply chain cost effective but also increase the momentum across it.
Our warehouses has 1200 m² of floor area each with a height of 6.85 m. They are built to international standards with configurable racking systems, CCTV, fire protection and firefighting systems, 24/7 security and 100% power backup system. There is Automatic ventilation system for controlling temperature and a separate area for safely storing cargo classified as dangerous.
There is an open area in excess of 20000 m² foroffloading / loading any VEHICLES /ODC /PROJECT cargo and company owned containers.
We have a fully automated office is available to conduct day to day business with a panel of authorized Customs agents who are regularly working with us.
Central / Regional distribution hub to local and international markets
We offer our warehouse and all its resources to clients who wants to use our facility as their distribution hub and serve their markets locally or internationally. We offer our services in unpacking the cargo into marketable lots, label them, affix bar-codes, insert accessories, instructional manuals, CDs etc., and send them on their way to the specified destination in quantities ordered on receipt of the duty payment documents. IAP also provides administrative support to clients in managing their distribution locally as well as globally.
Cargo Consolidation & De-consolidation Services:
We receive consolidated cargo containers arriving at port stuffed with goods belonging to different customers. We serve them by deconsolidated the cargo and sort it as per the cargo manifest. Importers or their agents can then schedule their delivery as per their requirement.
On the other hand, we also provide space for cargo agents for consolidating partial container load cargo into full container load. Different part container shipments can arrive into our warehouse from diverse destinations get consolidated, stuffed into container and shipped to designated destination.
Cross-stuffing, reworking and re-handling of cargo:
Cross-stuffing, reworking and re-handling of cargo: IAP Logistics provides cross container stuffing services along with several value added operations such as;
Bundling & kitting
Co-packing: Insertion of cables, catalogues, CDs
Labelling
Scanning
Inspection & quality checks
Shrink wrapping, stretch wrapping the cargo
Re-bagging the cargo
Palletizing the Cargo